The Western Sydney Fire Plumbing Experts
Western Sydney Fire Service Plumbing
DC Plumbing doesn't only offer in-home services but has a careful contribution to the Fire Services plumbing installations in your area. When you build a house or office, one of the biggest areas of consideration is fire protection. We help you maintain an up-to-mark fire system to ensure safety and comfort. While we prioritize compliance with the regulations enforced by local and federal governing bodies your home or office will always remain a safe haven. You can avail of a vast array of services from DC Advanced Plumbing such as fire hydrant lines, sprinklers, hose reel lines, valve assemblies, valves, and ancillaries.
Sydney's most trusted plumbers are just a call away as you deserve the best. With many years of expert plumbing, you can avail professional services for any big or small projects that will change your everyday lifestyle. When we take up any project, thorough communication coupled with our expertise makes it possible for you to achieve the results you had only dreamed of today.
Water issues can be frustrating and the mess and unavailability of water is a big hindrance in the luxury of best living that we all seek. An affordable, and reasonable solution couldn't be as easy as calling DC Plumbing and allowing us to take over from here. Now, you will have the ease of good living without paying extra.
Call US today and we assure you that you will never feel unsafe as we have got you covered.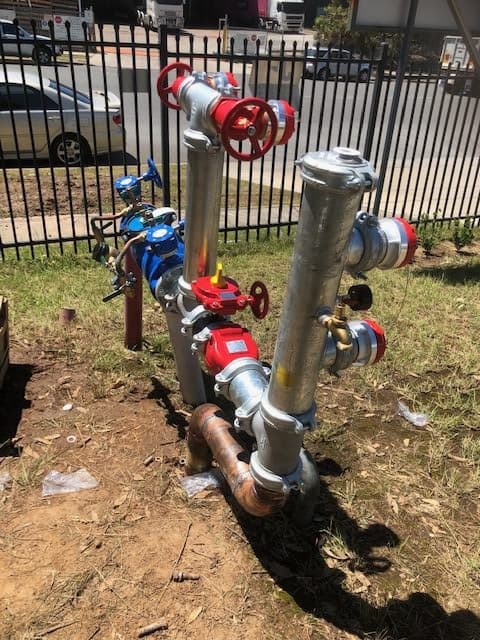 Have questions regarding Fire Service Plumbing? Give us a call today.
WHY CHOOSE DC ADVANCE PLUMBING
I originally engaged Daniel and the team at DC Advance Plumbing to attend to a blocked drain at my home and I've since used them at our office in Blacktown.
Samantha & Ron
Arndell Park
DC Advance Plumbing renovated the two bathrooms in our home. They did a wonderful job. We were all very happy with the outcome and their professionaism. We knew what was happening the whole way through the project.
Service Areas: Blacktown, Castle Hill, Baulkham Hills, Beaumont Hills, Rooty Hill, Marayong, Kellyville, Bella Vista, Woodcroft, Seven Hills, Kings Langley, Doonside, Kings Park, Arcadia, West Pennant Hills.